---
This is about Feyd. If you were looking for that mophead from Send in the nukes sergeant
---
Feyd is an Endormann with an really bad cut (he really should get a band-aid). He was created by a guy who uses paper as eyes. Um that's all.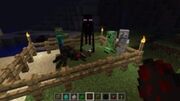 ---
Protagonists
The main man • The main man's sister • a sarcastic person • a guy who does what minecrafters do every day • the guy who started everything blocky • a sarcastic person's sister
---
Antagonists
a guy who lost his pigments but does not have blood in his body • an Enderman with a really bad cut • a big demon • a dude with a crown • spider bites • a cave • another Enderman with a really bad cut • Death with a crown and a bow • a zombie... ...brine? • a guy who no one knows about • another guy no one knows about • people who blow stuff up
---
Books
Deploy the jets sergeant • wait a second i see a pattern • never mind... ...wait- • every saga has a beginning a new enemy • the 90000000000 year old NPC in a temple • Return of the Jedi the end of the conflict
---
Ad blocker interference detected!
Wikia is a free-to-use site that makes money from advertising. We have a modified experience for viewers using ad blockers

Wikia is not accessible if you've made further modifications. Remove the custom ad blocker rule(s) and the page will load as expected.